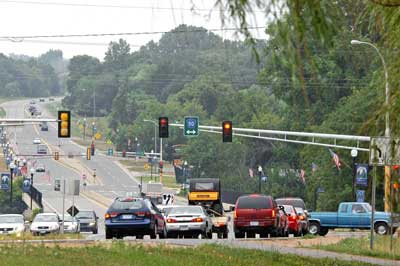 The Minnesota Senate voted yesterday to pass their transportation bill which mirrors Governor Dayton's plan to spend $11 Billion on roads, bridges, and public transportation.
The 6.5% wholesale gas tax has been receiving the bulk of attention as it would put Minnesota in the top five in the nation for fuel taxes.  The Senate Democrats' bill also includes the following tax hikes:
a 1.5% tax for vehicle registration fees–a 17% increase from the current 1.25%
a new late fee for vehicle registration renewal, capped at $100
a new $10 surcharge on license tab renewal
a one cent metro-wide sales tax to pay for public transit– a 75% increase from the current .25 cents, with most of the revenues going to the Met Council
Another Democrat idea for funding transportation spending is still floating around committee waiting for money to be appropriated.  Senate file 735 would fund a working group to establish a mileage-based road-user fee and is authored by Transportation and Public Safety Chair Sen Scott Dibble, D-Minneapolis.  Sen Melissa Franzen, D-Edina is the chief author.  The group would be in place by this August and be required to make recommendations to the legislature at the beginning of the 2017 session.
Mayors, city council members, and staff from the League of Minnesota cities showed up at the Capitol yesterday to lobby for the license tab surcharge and more spending on transportation.  Move MN, a coalition of liberal advocacy organizations as well as government and private unions, is currently running a media campaign promoting the bill.
All Republican members, and one Democrat, Sen Dan Sparks, D-Austin, voted against the bill.  Voting in favor of the bill are:
| | | |
| --- | --- | --- |
| Senator | District | Area |
| Sen Tom Bakk | 3 | Two Harbors, Grand Marais, Ely, Hermantown |
| Sen Terri Bonoff | 44 | Minnetonka, Plymouth |
| Sen Jim Carlson | 51 | Eagan, Burnsville |
| Sen Bobby Joe Champion | 59 | Minneapolis |
| Sen Greg Clausen | 57 | Apple Valley, Rosemount |
| Sen Richard Cohen | 64 | St. Paul |
| Sen Kevin Dahle | 20 | Northfield |
| Sen Scott Dibble | 61 | Minneapolis |
| Sen Kari Dziedzic | 60 | Minneapolis |
| Sen Chris Eaton | 40 | Brooklyn Center, Brooklyn Park |
| Sen Kent Eken | 4 | Moorhead, Detroit Lakes |
| Sen Melissa Franzen | 49 | Edina |
| Sen Foung Hawj | 67 | St. Paul |
| Sen Jeff Hayden | 62 | Minneapolis |
| Sen Vicki Jensen | 24 | Owatonna, Fairbault |
| Sen Alice Johnson | 37 | Blaine, Coon Rapids, Spring Lake Park |
| Sen Susan Kent | 53 | Woodbury |
| Sen Lyle Koenen | 17 | Marshall, Glencoe, Litchfield |
| Sen Ron Latz | 46 | St. Louis Park, Hopkins |
| Sen Tony Lourey | 11 | Hinkley, Cloquet |
| Sen John Marty | 66 | Roseville, Falcon Heights |
| Sen James Metzen | 52 | South St. Paul, Inver Grove Heights, Mendota Heights |
| Sen Sandra Pappas | 65 | St. Paul |
| Sen Roger Reinert | 7 | Duluth |
| Sen Ann Rest | 45 | New Hope, Robbinsdale |
| Sen Tom Saxhaug | 5 | Grand Rapids, Bemidji |
| Sen Bev Scalze | 42 | Little Canada, Vadnais Heights, Shoreview, Moundsview |
| Sen Matt Schmit | 21 | Red Wing, Zumbrota, Wabasha |
| Sen Kathy Sheran | 19 | Mankato |
| Sen Katie Sieben | 54 | Cottage Grove, Hastings |
| Sen Rod Skoe | 2 | Park Rapids, Baudette |
| Sen LeRoy Stumpf | 1 | Warroad, Roseau, Thief River Falls, East Grand Forks |
| Sen David Tomassoni | 6 | Chisholm, Eveleth, Virginia, Hibbing |
| Sen Patricia Torres Ray | 63 | Minneapolis |
| Sen Charles Wiger | 43 | Maplewood, North St. Paul |
| Sen Melissa Wiklund | 50 | Bloomington |