"On average, 3 to 4 people have died each winter season on Minnesota water over the past decade," cautions Lisa Dugan, DNR boat and water safety outreach coordinator.  "Most of those deaths occurred with someone operating a snowmobile or ATV on the ice. ~

Minnesota Department of Natural Resources
White Bear Lake, Minnesota     With the sub-zero temperatures over the weekend, ice-fishing enthusiasts itching to get to their favorite past-time may be thinking that the ice is safe for vehicles.  An SUV driver on White Bear Lake apparently believed it was, until the vehicle plunged through the ice.
According to the Minnesota Fishing and Outdoors Facebook post showing the half-submerged vehicle, the ice on White Bear Lake was only about 5" thick – well below the MN DNR's recommended guidelines for safely driving a vehicle on the ice.
The Minnesota DNR reports that an average of 4 people die each year through ice related accidents.  Most of those accidents have occurred when a vehicle or ATV have gone through ice that was too thin to drive on.
On Dec. 15, 2016, the DNR released an ice safety reminder to outdoor enthusiasts.  The reminder includes the following recommended guidelines for ice safety:
The DNR offers the following guidelines for new clear ice: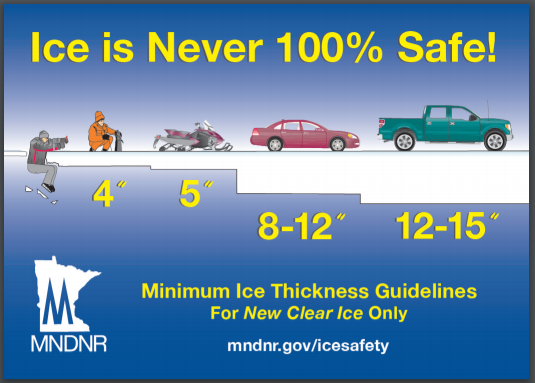 Factors that may affect ice include snow (works as an insulator, so snow-covered ice is usually about half as thick as clear ice), moving/flowing water under the ice surface, and/or schools of fish churning water under the ice.
The DNR also recommends that people remember to check ice conditions before heading out and to carry a safety kit that includes a rope, ice pick and lifejacket.  Always tell someone where you are planning to be and when you can be expected to return.  
If you are parking a vehicles on ice, be sure to keep 50 feet between vehicles and move them every two hours to prevent sinking.
Stay safe and enjoy the winter season.