When Chelsea Mitchell, ranked as the fastest girl in the 55-meter dash in Connecticut high school track, showed up for a competition last year she knew it would be a challenge.
Her competitors included two biological males who said they identify as girls.
Mitchell, a senior at Canton High School, had seen the speeds posted by the two. She was aware that other girls had lost to athletes born as boys who identify as girls. But at the time, she says, she "could feel the adrenaline in my blood."
That adrenaline wasn't enough, though. Mitchell came in third behind the two biological males.
Ultimately, because of Connecticut's high school athletics policy on transgender competitors, she lost four girls state championships and two all-New England awards to biological males who identify as females.
"It was definitely frustrating and disheartening to be right there, running for the biggest honors in the state, and to work so hard and try so hard to be the best in the state," Mitchell told The Daily Signal in an exclusive telephone interview Tuesday.
Mitchell and two other girls from different Connecticut high schools, Alanna Smith and Selina Soule, are suing the Connecticut Interscholastic Athletic Conference over the policy that allows biological males to compete as girls with biological females in high school sports.
The suit, filed Wednesday in the U.S. District Court for the District of Connecticut, claims that the state athletic conference violated Title IX, the section of federal law designed to protect equal athletic opportunities for women and girls.
Smith is a sophomore at Danbury High School and Soule is a senior at Glastonbury High School whose story has been chronicled by The Daily Signal since last May.
Although Soule has spoken at length to The Daily Signal, and later other news outlets, Mitchell and Smith are speaking on the record for the first time.
The two biological males are Terry Miller of Bloomfield High School, who won the 55-meter dash, and Andraya Yearwood of Cromwell High School, who came in second.
The lawsuit states that Miller and Yearwood have won 15 girls state championship titles and "taken more than 85 opportunities to participate in higher level competitions from female track athletes in the 2017, 2018, and 2019 seasons alone."
Mitchell and Smith were anonymous in Soule's original complaint last June to the U.S. Department of Education, which the agency is investigating.
This is the first lawsuit of its kind in the nation, according to Alliance Defending Freedom, a Christian legal aid organization that represents the three high school students.
Smith's father, former Chicago Cubs pitcher Lee Smith, was inducted into the Major League Baseball Hall of Fame last year.
As a freshman, Smith won the 400 meter at the 2019 outdoor New England Regional Championships. She came in third in the 200 meter at the championships, behind a biological male.
"This makes us work harder and most of the time we know we are not going to get the top spot, just achieve a personal record," Smith told The Daily Signal in an exclusive phone interview Tuesday, referring to the athletic conference's decision to allow biological males to compete against girls.
It's a complex issue, she said, but the court case is about fairness in competition.
"We want to be able to make sure there is fairness," Smith said.
Soule missed qualifying for the state championship in the 55-meter final and, by one spot, an opportunity to qualify for the New England championships in the 2018-2019 season.
Two spots above her were taken by biological males.
Because 18 other states have similar policies for high school athletics, the three girls' case in Connecticut could set a national precedent, said Christiana Holcomb, legal counsel for Alliance Defending Freedom.
"The objective is fairness in women's sports," Holcomb told The Daily Signal.
"Title IX is there for a reason," she said. "It's to give athletes like Chelsea [Mitchell] and Alanna [Smith] the opportunity to excel and be victorious."
Mitchell said that she drew on her training and knew how to maximize her performance. She recalled looking at the running times for the biological male athletes in her race and realizing that beating them would be quite difficult.
"They are leaps and bounds beyond my fastest time," Mitchell said.
The three girls' lawsuit notes that college scholarships are among the missed opportunities they faced in losing to biological boys in competitions specifically intended for girls.
"I'm left wondering," Mitchell told The Daily Signal. "I can't measure the college scholarship, and I don't know what opportunities could have come if the rules were different."
Like Soule before them, both girls stressed that they do support fairness for trangender individuals, but that the current policy in Connecticut high school athletics isn't fair to girls.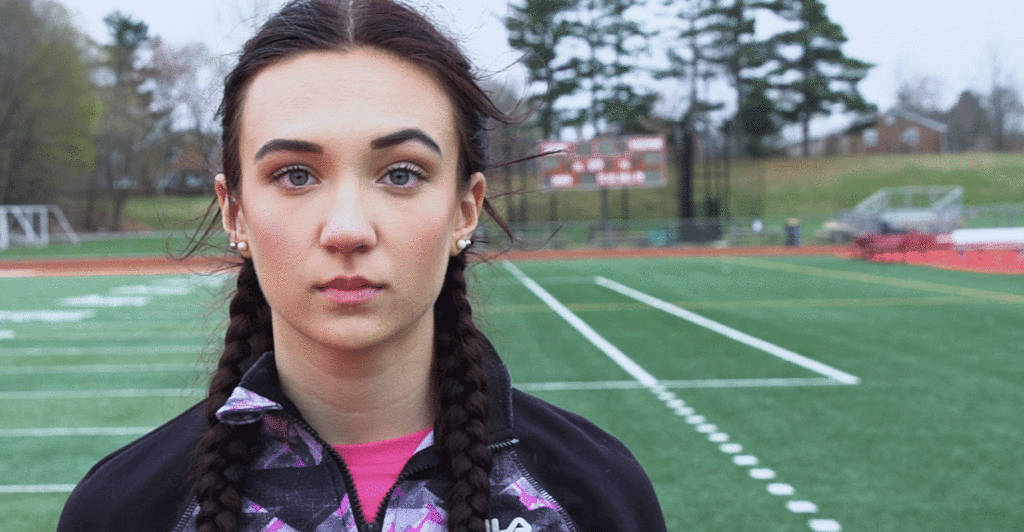 The Connecticut Association of Schools-Connecticut Interscholastic Athletic Conference, which governs high school sports in the state, has argued that the transgender policy is based on federal and state anti-discrimination laws.
"This is about someone's right to compete," executive director Glenn Lungarini told the Associated Press last year. "I don't think this is that different from other classes of people, who, in the not too distant past, were not allowed to compete. I think it's going to take education and understanding to get to that point on this issue."
The lawsuit filed Wednesday states:
This discriminatory policy is now regularly resulting in boys displacing girls in competitive track events in Connecticut—excluding specific and identifiable girls including Plaintiffs from honors, opportunities to compete at higher levels, and public recognition critical to college recruiting and scholarship opportunities that should go to those girls.
As a result, in scholastic track competition in Connecticut, more boys than girls are experiencing victory and gaining the advantages that follow even though postseason competition is nominally designed to ensure that equal numbers of boys and girls advance to higher levels of competition.
Compared to boys—those born with XY chromosomes—in the state of Connecticut those who are born female—with XX chromosomes—now have materially fewer opportunities to stand on the victory podium, fewer opportunities to participate in post-season elite competition, fewer opportunities for public recognition as champions, and a much smaller chance of setting recognized records.